Curly hair will generally make you look pretty you can make a lot of styles in it and in addition to this having short hair will make you look like a small woman. During the time of the wedding making different designs in short curly hair will not be that much easy you will have to pick for the one that will be suitable for your face as well as your costume.
There is different trending short curly hair wedding hairstyles available. Those are as follows.
Hairband
You can just wear a hairband which will be relevant to your costume. You will just have to place the hairband at the top of your head and by leaving the other half of the hair to flow loose.
Side clip
You just have to split your hair into two starting from the side and one end of the hair has to be collected together and a clip has to be placed over. Make sure that the clips you hold there contain a shining agent so that it will be in a glittering way when you stand far.
Ribbon
You will lift with some extras from your wedding costume by stitching you can collect a lengthy one among them and just you can tie them in your head starting from your neck region till your top of the head and you can have a bow at the side which will make you look pretty.
Free hair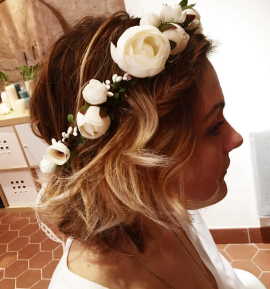 Curly hair for women will be cute when being compared to the straight hair. You can curl your hair in any direction you wanted them to stand. This type of hairstyle will make you look messy and beautiful at the same time.
Having a short curly hair for a wedding will make you look like a Princess and you can make any sort of hairstyle with that curliness.
Final thoughts
These are some of the wedding short curly hairstyles, which are explained in this article. It is your responsibility to go with the one that will be quiet appealing for your face.